The Carlyle Group is reportedly nearing a deal to divest HCR ManorCare Inc. by handing over the troubled Toledo-based nursing home operator to Quality Care Properties Inc., a real estate investment trust to which HCR ManorCare owes hundreds of millions of dollars in back rent.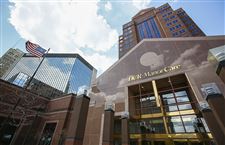 HCR ManorCare, which has some 1,700 employees in the Toledo area, has been struggling for some time. Filings show HCR ManorCare lost $3.7 million over the last three years.
THE BLADE/JEREMY WADSWORTH
Enlarge | Buy This Image
A source with knowledge of the situation told The Blade on Monday that the involved parties believe they are close to a deal that would avoid forcing HCR ManorCare to file for bankruptcy and not result in the closure of any its facilities.
HCR ManorCare operates about 240 skilled nursing and rehabilitation centers across the country, along with 60 memory care and assisted living facilities, 50 outpatient rehab clinics, and about 110 hospice and home-care locations.
The specifics of the proposed handover from Carlyle to Quality Care Properties were not clear. The Carlyle Group has owned HCR ManorCare since 2007, but sold off its real estate holdings several years ago.
News of Carlyle's plan to cede control of HCR ManorCare was first reported Sunday by the New York Post.
HCR ManorCare, which has some 1,700 employees in the Toledo area, has been struggling for some time. Filings with the U.S. Securities and Exchange Commission show HCR ManorCare lost $3.7 million over the last three years.
The company also has fallen significantly behind on rent payments to Quality Care Properties, which owns the skilled nursing, memory care, and assisted living facilities that HCR ManorCare operates.
Quality Care Properties entered a forbearance agreement with HCR ManorCare in April that was to defer $22.5 million in second-quarter rent until July 5, but HCR ManorCare failed to meet its June rent requirements, effectively putting the company in default.
In a filing last week, Quality Care Properties said the deferred and unpaid past rent owed by HCR ManorCare totals approximately $300 million.
Rick Rump, a spokesman for HCR ManorCare, said in an email to The Blade on Monday that the company is a "viable enterprise" that is committed to serving its patients.
"We signed a lease deal at the top of the market. It needs to be modernized. We are working on that with the landlord now, and we think it's best not to comment further on the details," Mr. Rump said.
A spokesman for Carlyle, the private equity firm that bought HCR ManorCare in 2007, declined to comment. Officials with Quality Care Properties did not respond to requests for comment.
Though HCR ManorCare has not offered much public comment about its struggles, it privately has challenged the reporting about them.
The company sent an email last week to its Toledo employees claiming — without providing any examples or rebuttals — that recent reporting about the situation had included "inaccurate information being disseminated as if it is factual news."
Asked by The Blade for specific examples of what had been incorrectly reported, Mr. Rump declined to do so.
"Recent reporting has been inaccurate on many points, but we remain focused on our commitment to patients and staff," he wrote in an email.
Contact Tyrel Linkhorn at tlinkhorn@theblade.com or 419-724-6134.
Guidelines: Please keep your comments smart and civil. Don't attack other readers personally, and keep your language decent. Comments that violate these standards, or our privacy statement or visitor's agreement, are subject to being removed and commenters are subject to being banned. To post comments, you must be a registered user on toledoblade.com. To find out more, please visit the FAQ.