If Quality Care Properties Inc. were to take over the business side of HCR ManorCare, the Toledo-based nursing home operator that owes it hundreds of millions of dollars in back rent, it is unlikely that the Maryland real estate investment trust would gut the Toledo corporate office, at least initially, a number of experts told The Blade.
"I would think they would be pretty ruthless about trimming anything that doesn't look good going forward," said Thomas Ealey, a professor of business administration at Alma College in Michigan. "But the day after the sale, someone's got to operate it, and it's not a similar operation. It's going to require the people in Toledo and the people in the facilities."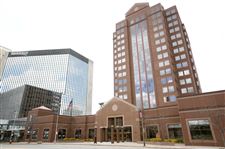 The HCR ManorCare building on North Summit Street
THE BLADE/JEREMY WADSWORTH
Enlarge | Buy This Image
HCR ManorCare has about 1,700 employees in the Toledo area, with several hundred of those working at its corporate headquarters on North Summit Street.
The company says it operates about 240 skilled nursing and rehabilitation centers across the country, along with 60 memory care and assisted living facilities, 50 outpatient rehab clinics, and about 110 hospice and home-care locations.
HCR ManorCare was a standalone, publicly traded company until 2007, when the Carlyle Group bought it and took it private. Three years later, Carlyle sold HCR ManorCare's real estate holdings to HCP Inc., a real estate investment trust. The Carlyle Group maintained ownership of HCR ManorCare as a corporate entity.
Last fall, HCP spun off the holdings into a publicly traded real estate investment trust called Quality Care Properties.
The move was, in part, meant to give the company a more dedicated focus on HCR ManorCare, which has been losing money for the past three years.
Now, with HCR ManorCare owing Quality Care Properties approximately $300 million in past rent, QCP is exploring options to take ownership of the nursing home operator.
In regulatory filings, QCP has said it is seeking up to $400 million in loans and a $100 million line of credit to refinance HCR ManorCare debt and provide capital to keep the company running. The company said it hoped to have commitments in place by this past Thursday.
Sources told The Blade earlier this week a deal was on the table that would transfer ownership from Carlyle to QCP, though it's not clear where that stands today.
QCP has not responded to requests for comment. A spokesman for Carlyle declined to comment.
Experts say HCR ManorCare's struggles can be explained, in part, by the changing face of long-term care in America.
"You would think with the graying of America there would be the greatest need ever for skilled nursing beds, but occupancy is at its lowest levels nationwide," said Steve Monroe, a partner at the Connecticut health care research firm Irving Levin Associates Inc.
Mr. Ealey, who has spent much of his career studying the long-term care industry, said nursing homes once had a fairly standard patient who would enter a facility and stay for the rest of his or her life.
"That's still a profile of a lot of the residents, but as alternatives began and the government and everybody wanted to keep people out, the shift has been to a rehab patient," he said.
HCR ManorCare has said the leases it signed came at the top of the market.
The company has sought to renegotiate the terms of those leases. QCP has given HCR ManorCare some breaks, including a $15 million reduction in December.
But that can't go on forever, experts say.
"Their financials continue to weaken," Mr. Monroe said. "They're kind of looking at a tough situation. It's unfortunately because the leases they entered into seven years ago became quite expensive, and the skilled nursing reimbursement situation has weakened the last couple years."
While HCR ManorCare certainly isn't alone in that situation, analysts have said its situation is complicated by the legacy of the Carlyle deal.
"Most of the challenges of HCR have been similar to those facing their peers, but HCR's ability to address them has been hampered by the amount of leverage from the LBO," Fitch analyst Britton Costa told Reuters last week.
Attempts by The Blade to reach Mr. Costa were unsuccessful.
Experts that The Blade did speak with believe QCP taking on the whole of HCR ManorCare is likely the best outcome in a difficult situation, in part because it would avoid a bankruptcy filing.
But that would remake QCP. A real estate investment trust is a special kind of company configuration that pays out high levels of dividends to investors and gets special tax benefits. If Quality Care Properties were to own and manage the HCR ManorCare business, it would lose its REIT status and suddenly be forced to run a massive health care operation.
That's why experts like Mr. Ealey believe it would likely take a hands-off approach to start.
"The REIT certainly would not have those capabilities," he said. "At least in the short run, I can't imagine there's that much change."
It is less clear what the long-term future might be under a new owner.
Mr. Monroe suspects the company would look to downsize.
"There are some economies of scale, but there are managerial diseconomies of scale. It is just very hard to manage, staff, and market that many. It's a difficult business," he said. "You basically have 280 profit centers, and each one is unique and each one is a different market. And it's tough."
Contact Tyrel Linkhorn at tlinkhorn@theblade.com or 419-724-6134.
Guidelines: Please keep your comments smart and civil. Don't attack other readers personally, and keep your language decent. Comments that violate these standards, or our privacy statement or visitor's agreement, are subject to being removed and commenters are subject to being banned. To post comments, you must be a registered user on toledoblade.com. To find out more, please visit the FAQ.