Second of two parts.
ROCHESTER, N.Y. — People want to know how this city drastically has reduced the number of children with elevated blood lead levels, dropping two and a half times faster than comparable cities in upstate New York.
Rochester city and health officials field frequent calls from places nationwide. That interest only grew after the lead crisis in Flint, Mich., elevated the issue to a national conversation. So cities want to know — can they do it too?
In the decade since Rochester required rental properties built before 1978 to be cleared of lead hazards as part of the certificate of occupancy inspections, documented cases of childhood lead poisonings have fallen by more than two-thirds.
VIDEO: Rochester residents, landlords discuss lead ordinance
RELATED CONTENT: Part 1: ochester's lead law spurs success; Toledo tries similar effort ■ State OKs funds for Toledo lead plan ■ Lead in Toledo: Health Dept. failed to follow up on warnings
When responding to inquiries from cities such as Buffalo, Syracuse, N.Y., and Cleveland, Rochester officials stress clear communication, community partnerships, and data collection to make any lead-related policies as efficient and effective as possible.
Toledo is among the cities to call on Rochester and use its law for the basis of the controversial "lead-safe" rental ordinance Toledo City Council passed last year.
The measure requires rental properties built before 1978 and home day-care centers to pass visual and dust-wipe inspections.
The roll-out has been bumpy. Landlords and tenants packed council meetings to push for the law's repeal or to drop the requirement to test with dust wipes.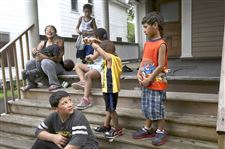 Brian 11, bottom left, watches his brother Joseph, 5, right, as they play with their siblings. Their mother, Yadelis Lopez, back left, says the ordinance has given her more peace of mind as she monitors Joseph's elevated blood-lead levels.
THE BLADE/KATIE RAUSCH
Enlarge | Buy This Image
Implementation in Toledo has been slow. Fewer than 200 of the estimated 35,000 properties registered and certified. The first compliance deadline, affecting about 15,000 properties, is June 30, 2018.
Toledo's ability to enforce its own law was threatened briefly when State Rep. Derek Merrin (R., Monclova Township) added an amendment to the House budget bill that would give all lead-regulation authority to the state, overriding local ordinances. The item was not in the final budget.
RELATED CONTENT: State Rep. Derek Merrin: State best equipped to deal with lead issue ■ Editorial — Sen. Gardner finds better way to protect children from lead
But it turned Toledo's lead law into a statewide conversation, one that has drawn in lawmakers and officials from cities across Ohio, about what is the appropriate response to the environmental hazard that poisoned nearly 4,400 children across the state in 2015.
Mr. Merrin, in a May letter to The Blade, said he believes "current laws must be re-examined to enable the [state] health department to be more proactive rather than addressing lead hazards only after an individual has been poisoned" but Toledo's law is unconstitutional and targets a small group of investors. He said the state health department should handle lead-related issues to make laws uniform statewide.
Toledo Mayor Paula Hicks-Hudson, defending the city's law in Columbus, asked state lawmakers to "use us as a testing ground in Ohio to show how this can work."
Mr. Merrin's office did not respond to requests for comment on whether he would support a statewide approach resembling Toledo's new law.
Communication
Cities in the process of passing or implementing similar lead laws have common concerns, said Katrina Korfmacher, associate professor at the University of Rochester Medical Center and member of Rochester's Coalition to Prevent Lead Poisoning.
"I've looked at the process of trying to get local lead laws in a lot cities. And in every single city, property owners are really concerned about raising the issue of lead because it raises the potential of completely upending their business model," she said.
That's why communication is crucial, said Gary Kirkmire, head of inspection and compliance services for the city of Rochester.
"It's really about painting clear expectations and having reasonableness in the process, because where you're met with frustration in our experience and opposition is when you're unreasonable," he said.
Toledo's law, based on "the Rochester model," requires community education. In addition to material on the Toledo-Lucas County Health Department's website, lucascountyhealth.com, the health department has started a series of information sessions for tenants and landlords.
Dave Welch, the health department's environmental health director, said the sessions, as well as recent mailings in Toledo water bills and to landlords included in the first-tier deadline of June 30, 2018, has begun a wave of awareness about Toledo's law.
"They are asking good questions," he said of the meeting's attendees. More meetings will be set this summer, he said.
Data
The number of lead poisoning cases is one major indicator of its success, Ms. Korfmacher said.
"I always thought in the back of my head, we can say lead poisoning has come down 90 percent in Rochester — and that'​s an awesome thing — but what if it has come down 90 percent everywhere?" she said. Then thecounty health departmentcompared Rochester to similar cities in upstate New York.
"And our lead rates came down 2½ times faster than anybody else's," she said. "To me, that's pretty definitive that we're doing something right. It's not just the lead law, it's all the things that support it: the community education, awareness, education, [and] advocacy."
Keeping track of the law's impact, including compliance rates, blood-lead levels, and financial effect on landlords, has helped Rochester pull in $30 million in grants from the U.S. Department of Housing and Urban Development for residential improvements.
Toledo too is seeing some money trickling in. As part of the new state budget, Toledo was awarded $300,000 in grants for lead-related housing improvements, with matching private funds from the Historic South Initiative.
Unfinished business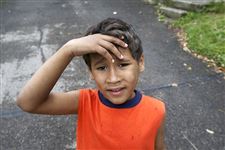 After test results showed that Joseph, 5, had elevated blood-lead levels, his mother, Yadelis Lopez, is more careful with rental homes. Landlords such as Catherine Taylor say compliance has become second nature.
THE BLADE/KATIE RAUSCH
Enlarge | Buy This Image
Work remains to be done in Rochester, Ms. Korfmacher said, which includes getting the 100 to 200 children who have tested with elevated blood lead levels in each of the last five years as close to zero as possible.
For tenants such as Yadelis Lopez, the law means peace of mind. Her son Joseph, now 5, tested with high blood-lead levels at a 12-month check-up with his pediatrician. Since then, Ms. Lopez said she has been cautious about the places she lives to keep Joseph, or any of her other five children, from additional exposure.
When she signed the lease for her current house on Rochester's northwest side, she said her landlord immediately set the necessary lead tests, and the place was cleared. Rochester landlord Catherine Taylor say complying is now second nature.
"I believe most landlords keep up with the rule and regulation because if you don't you're going to be fined," she said as she oversaw the installation of signs on a property in the city's Dutchtown area.
"I know it is expensive, but I am a registered nurse," she said. "What I look out for first is safety. Safety is very important, cleanliness is very important in an environment ... a clean environment for children and families."
For cities in the midst of implementing a similar law, Ms. Korfmacher said it can't be resolved immediately.
"From the research that is done here, we know that lead, stress, and other environmental contaminates have huge impacts on kids' ability to learn, develop, and be healthy as adults," she said, adding that fewer poisoned kids means lower costs to taxpayers for things such as special education and the criminal justice system.
"Those costs aren't going to go away tomorrow," Ms. Korfmacher said. "But if you can imagine 10, 15, 20 years down the line how much better off your city will be if you have housing that is in good condition and kids that aren't lead poisoned, I think that can help people come together to do the hard things that are difficult for the first couple years."
Contact Lauren Lindstrom at llindstrom@theblade.com, 419-724-6154 or on Twitter @lelindstrom.
Guidelines: Please keep your comments smart and civil. Don't attack other readers personally, and keep your language decent. Comments that violate these standards, or our privacy statement or visitor's agreement, are subject to being removed and commenters are subject to being banned. To post comments, you must be a registered user on toledoblade.com. To find out more, please visit the FAQ.