Flags held high, hundreds of farm workers and allies marched toward the federal courthouse, with drums and chants to power their way along with a call for immigrant and labor rights.
South Toledo-based labor union Farm Labor Organizing Committee was formed in 1967, and the group led by Baldemar Velasquez has fights left to wage. Their convention, held Friday and Saturday at the SeaGate Convention Centre, was also used as their 50th anniversary celebration, calling it "50 years of constant struggle."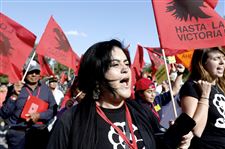 Irene Arellano of Anaheim, Calif., walks in the Farm Labor Organizing Committee march. The union was founded in Toledo in 1967, and leader Baldemar Velasquez says his group seeks equality, not just better pay and working conditions.
THE BLADE/ANDY MORRISON
Enlarge | Buy This Image
FLOC's mission has always gone beyond just calls for better pay and working condition in the farm fields, as many of their members are migrant workers. Mr. Velasquez said Saturday's march, which capped off the convention, was to fight back against hate speech and groups.
"[We will] not let Toledo become another Charlottesville," he said.
Mayor Paula Hicks-Hudson helped lead the march and presented a city proclamation congratulating FLOC's five decades of struggle. She spoke against President Trump's plan to end a program protecting young immigrants from deportation.
"It's a shame that right now we are facing some of the same issues," that FLOC was 50 years ago, she said before the march.
During the convention, which was conducted in Spanish, FLOC delegates voted to call for a boycott of VUSE e-cigarettes, a product made by Reynolds American, a subsidiary of British American Tobacco. The union has fought for a decade to improve conditions for tobacco-farm workers in North Carolina, and has been developing a coalition with workers in Asia, Africa, and Latin America.
Members also called for better conditions for guest workers, opposed President Trump's immigration policies, and supported a code of conduct agreements between minority communities and local police departments, among other resolutions.
U.S. Rep. Marcy Kaptur (D., Toledo), spoke at the convention and told FLOC members trade deals and other governmental policies in both the United States and Mexico have hurt farm workers, as agricultural workers were excluded from the National Labor Relations Act, and deals such as NAFTA shifted well-paying jobs from the United States to Mexico with very low pay.
"Basically, the people were left with no rights," she said. "They have no rights under our laws. In Mexico, they were left with no alternative."
Agricultural workers in the United States and Mexico have an opportunity with the renegotiation of NAFTA to insist that agricultural labor must be included in the new deal, finally given farm workers in North America rights, she said.
In SeaGate's lobby were pictures from FLOC's campaigns, including its long boycott of the Campbell Soup Co. In one corner was a photograph of a burning cross, left by Ku Klux Klan members in 1978 in Belmore, Ohio, at a strike camp for workers picketing Campbell.
Contact Nolan Rosenkrans at nrosenkrans@theblade.com, 419-724-6086, or on Twitter @NolanRosenkrans.
Guidelines: Please keep your comments smart and civil. Don't attack other readers personally, and keep your language decent. Comments that violate these standards, or our privacy statement or visitor's agreement, are subject to being removed and commenters are subject to being banned. To post comments, you must be a registered user on toledoblade.com. To find out more, please visit the FAQ.