Mayor Paula Hicks-Hudson announces she would support the effort to get Lake Erie's western basin declared impaired because of excessive algae during a press event at the Middlegrounds Metropark on the banks of the Maumee River on Wednesday.
The Blade/Amy E. Voigt
Enlarge | Buy This Image
Toledo Mayor Paula Hicks-Hudson reversed course Tuesday and announced she would support the effort to get Lake Erie's western basin declared impaired because of excessive algae.
The mayor made the announcement in Middlegrounds Metropark on the banks of the Maumee River, which was a blend of dark and near-florescent green.
The Toledo-Lucas County Health Department issued a recreational public health advisory because of an algal bloom on the river in downtown Toledo. The bloom extended from the Anthony Wayne Bridge to Cullen Park, and advisory signs were posted at various access points.
.@ToledoMayorPHH announces her intent to have #LakeErie declared impaired today over at Middlegrounds Park. pic.twitter.com/pBxa7G76R8

— City of Toledo (@city_of_toledo) September 26, 2017
The mayor had — until Tuesday — refused to join the growing chorus of voices demanding that the U.S. Environmental Protection Agency declare the western basin impaired.
Mayor Hicks-Hudson said she could no longer wait to ask for the designation because of the current bloom.
"It is about the Clean Water Act but it is also about climate change. It's about us really looking at what has really happened today ... I am going to do every thing I really can to make a dent in this problem we are facing," she said.
BLADE BRIEFING: Tom Henry on algae
Lucas County Treasurer and Toledo mayoral candidate Wade Kapszukiewicz said in May, when he announced his candidacy, that the lake should be declared impaired. He again promised on Aug. 1 to push for more restrictions on polluters who dump untreated animal waste into Lake Erie by supporting the fight to declare the chronically algae-choked, open waters of its western basin as impaired.
Algae in downtown Toledo, Wednesday, September 20, 2017.
The Blade/Andy Morrison
Enlarge | Buy This Image
"I'm glad the mayor has finally seen what has been clear to most of us for several years — that our lake and river are facing a crisis," Mr. Kapszukiewicz said shortly after the mayor's comments Tuesday. "I wish the mayor had realized this was a problem sooner, but I am glad she has finally recognized it."
Mayor Hicks-Hudson said her announcement had nothing to do with her opponent's earlier calls for the lake to be declared impaired.
Lake Erie algal toxins caused the 2014 Toledo water crisis that affected roughly 500,000 residents. The toxins also prompted Michigan in November, 2016, to declare portions of Lake Erie's waters as impaired.
On Jan. 26, 2016 all three Lucas County commissioners told Toledo City Council they should support the effort. During that same meeting, Councilman Peter Ujvagi, formerly a Lucas County administrator, urged his fellow councilmen to pursue the impairment status as part of a multitrack strategy against toxic algae, saying they "need to acknowledge the problem, and we need to act on it as soon as possible."
Oregon Administrator Mike Beazley said Oregon City Council likewise approved a resolution urging for the designation on Feb. 22, 2016, shortly after the county commissioners approved such a resolution.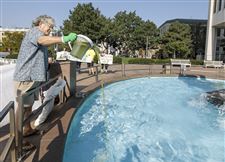 Mike Ferner dumps algae tainted Lake Erie water and dead perch into the fountain as members of Advocates for a Clean Lake Erie protest at One Government Center on Friday.
THE BLADE/ANDY MORRISON
Enlarge | Buy This Image
Activist Mike Ferner dumped a pitcher of algae-infested water and two dead fish into One Government Center's public fountain Friday to highlight the condition of the river and lake. Mr. Ferner, joined by more than a dozen other members of the Advocates for a Clean Lake Erie group he founded in response to the 2014 Toledo water crisis, said the protest was in response to foot-dragging by local, state, and federal officials.
He said the administrations of Mayor Hicks-Hudson and Ohio Gov. John Kasich are complicit in allowing manure and other farm fertilizers to pollute the water because they won't call for the open water of Lake Erie to be designated as impaired.
Also Friday, following Mr. Ferner's stunt, the commissioners released a statement saying the recent formation of algae in the Maumee River was "particularly distressing."
In 2016, the city of Toledo spent $41 million as part of its 10-year, $500-million project to modernize the Collins Park Water Treatment Plant. An expected $122,400 will be spent treating Lake Erie water with chlorine this year.
Harmful algal bloom season officially started July 13, and the city started analyzing samples from Lake Erie on a daily basis the week previous. The Collins Park plant collects daily samples year-round, but analyzes them once a week during the off-season.
The Toledo Waterways Initiative — a $521 million overhaul of the city's sewage plant near Cullen Park in Toledo's Point Place, as well as the collection of pipes and pumps throughout the metro area that are connected to it - began in 2002. It was the result of the agreement the city reached with the U.S. EPA after years of untreated sewage releases.
A letter dated Tuesday from Toledo Mayor Paula Hicks-Hudson to Donald Trump on the status of Lake Erie.
In June, 2016, a municipal lawyer tasked by Mayor Hicks-Hudson to study the consequences of designating the Lake Erie watershed as impaired said it would have little or no effect on algal blooms and that it would have a massive, nearly insurmountable financial impact on the city.
"The extreme case example is $2 billion — that's billion, with a 'b' — because you'd need a new sewer plant and a whole lot of new infrastructure," Joe McNamara, a former city councilman who now works for the city as an attorney, said last year.
Mr. McNamara said slashing discharges from Toledo's sewer plant to nothing would have no effect on algal blooms.
"More than 75 percent of the phosphorus load is coming from nonpoint sources, so you could shut down potentially every point source of phosphorus and you would still get algal blooms," he said last year. "If you magically transported Toledo to California, you would still have algal blooms so this is potentially the wrong tool for the job."
The mayor Tuesday said she is still concerned about those costs.
The Lucas County commissioners renewed their position Tuesday that Lake Erie's open water should be designated as impaired.
The commissioners held their board meeting outside at International Park along the river, where they and the audience could see the murky green water as well as smell the sour odor from the algal bloom.
"We want to to thank the city of Toledo for finally coming to the party," said Pete Gerken, president of the board of commissioners. "I guess it took the green monster of the river in downtown Toledo on a weekend where there were 1,200 rowers to get somebody's attention. We always welcome people to our side in what we think is a righteous fight."
A team prepares to enter the algae-covered Maumee River during the ProMedica Frogtown Regatta at International Park in Toledo Saturday.
The Blade/Lori King
Enlarge | Buy This Image
The ProMedica Frogtown Regatta in International Park attracted more than 30 teams, mostly from high schools, from six states. Organizers decided to continue with the 32nd regatta despite the algal bloom in the river.
The commissioners first approved a resolution in January, 2015, for the impaired status under the U.S. Clean Water Act. They again on Tuesday threw their support behind a new resolution that asks for the lake's western basin to be declared impaired.
Mr. Gerken said the water in the river behind his South Toledo home near Delaware Island went from clear to green over the weekend, a first since the algal crisis of 2014.
"This is unacceptable. It cannot be allowed to continue. We really need action now more than ever," he said. "The algal bloom is not only here to stay. It is now in our downtown. It is in our neighborhoods."
Commissioner Tina Skeldon Wozniak called on Governor Kasich to visit Toledo to see the algae-infested water and judge the impact it is having on public health and the region's economic development.
"This is not acceptable. It is appalling and wrong. We need Governor Kasich to step up to come here and .... look at this first hand, declare this an emergency and impaired status," she said.
Staff writer Mark Reiter contributed to this report.
Contact Ignazio Messina at imessina@theblade.com, 419-724-6171, or on Twitter @IgnazioMessina.
Guidelines: Please keep your comments smart and civil. Don't attack other readers personally, and keep your language decent. Comments that violate these standards, or our privacy statement or visitor's agreement, are subject to being removed and commenters are subject to being banned. To post comments, you must be a registered user on toledoblade.com. To find out more, please visit the FAQ.