The best hotels are like a good pair of shoes: They should be comfortable, functional, and make you feel a little bit special.
Aesthetic appeal? Sure. But all the flash in the world won't matter if your heel snaps off at the first aggressive curb.
Marriott International's new Renaissance Toledo Downtown shoots for that higher standard. Opened in August after 20 months and $31 million in renovations, the 12-story, 241-room hotel has the burnished sheen of any upscale hostelry, from muted beige and brown lobby décor to artwork that reflects the host city. We're not just talking about the World War II Jeep in the lobby and sprocket art on the wall, but little placards in the guest rooms proclaiming "In this house we say Holy Toledo."
Marriott operates 160 Renaissance hotels from Dubai to Dallas, including properties in 29 states. (Toledo is the fourth Ohio location after Columbus, Cleveland, and Cincinnati.) Other brands in the chain range from the super luxurious Ritz-Carlton to the more modest Fairfield Inn and Suites.
VIDEO: Renaissance Toledo Downtown
But Renaissance, it seems, is its bread and butter, catering to both the business traveler away from home and the extended family paying a visit.
So how does the Renaissance Toledo fare?
We checked in recently for a two-night stay, approaching it as an average guest. That meant forgoing one of the property's seven suites, including a Presidential one. Instead we opted for a room with two queen-size beds, which ran $159 per night on a recent Sunday and Monday. You can upgrade to a corner room with a bit more space for $10 more, but these all come with king-size beds. Suite prices start at $230 per night.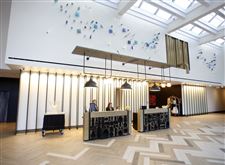 The lobby at the Renaissance Toledo Downtown Hotel in Toledo on Friday, November 10.
The Blade/Kurt Steiss
Enlarge | Buy This Image
Our visit was a week before AAA recently gave the Toledo location its four-diamond rating, which is how it assesses hotels and restaurants in North America.
Maybe it was the time of day, or the fact that we had a reservation, but our Sunday afternoon check-in was a breeze, taking all of 45 seconds. We were given standard key cards and a fourth-floor room and there received our first surprise: You no longer have to insert cards into the door but merely swipe them across the key pad.
There's much to admire about the hotel's standard guest room, not least that we requested a view of the Maumee River and got one, albeit at an angle. Our second surprise was upon turning on the 50-inch TV that is standard at the Renaissance: A personalized welcome message popped up.
There is plenty of space for two people to move around the room, including a cozy little divan flanked by a coffee table. The nearby writing desk boasts a welcome improvement for any hotel built since 2010: enough outlets to plug in two electronic devices plus two additional USB ports. No need to figure out which you need to juice up more, your cell phone or your computer.
The small but functional bathroom near the room's entrance had great water pressure (it's stocked with Aveda products; there's a good amount of closet space, an in-room safe and a mini refrigerator. No mini bar, but those are fast becoming as obsolete as Crocs.
There is, however, a plush robe in each room (one assumes more depending on the number of guests) but, alas, no slippers.
Rooms comes with free Wi-Fi, but the hotel promises three times the standard Internet speed for an upcharge of $9.95 per day.
On our first night we explored the common areas of the hotel: the spacious lobby, which has an area that's been sectioned off by wire display cases for those who crave a little alone time without actually being alone. Down one corridor you find a suite of meeting and banquet rooms (the hotel's website says it has nearly 11,000 square feet that can be sectioned off), and just off the lobby is a colorful display for the Toledo Museum of Art store. Despite price tags on the glass works displayed, you'll have to drive a few miles to the actual museum to purchase them.
One nice touch on the other side of the lobby is a solitary pool table under a hanging lamp, which we found a pair of guests making use of both nights. It felt both elegant and homey.
One floor below the lobby are some offices and a nice-size fitness room with a glass front. It was dark the night we first visited, but a swipe of your room card across the key pad, and the lights and TVs come on. You'll find a dozen fitness bikes, treadmills, and other cardio equipment, but only a smattering of free weights. The next afternoon, a half-dozen guests were using it.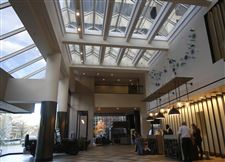 The lobby at the Renaissance Toledo Downtown Hotel in Toledo on Friday, November 10.
The Blade/Kurt Steiss
Enlarge | Buy This Image
Much of the local buzz since the Renaissance opened has centered on its 12th-floor bar, The Heights. An airy space — spaces, really; there are several linked rooms — it offers a 360-degee view of the river and the city proper.
We'd previously visited The Heights two weeks after it opened, when the crowds were so thick management had to temporarily shut down access. I wondered if a guest would be barred as well.
The Monday we ascended the elevator to watch football, the crowd was fairly modest; just a dozen or so guests or locals chatting and socializing. Weekends seem to be peak time.
When weather allows, the large patio accommodates perhaps 50 people. Elsewhere the bar offers tables and couches, and if you don't feel like trekking downstairs, you can get wraps, lobster bites, poutine, and pizzas on the spot. There's a double-sided bar for sitting and serving.
The Heights opens at 4 p.m. daily but closes at 10 p.m. Sunday, 11 p.m. Monday-Wednesday, and 1 a.m. Thursday-Saturday.
One of the star attractions at the Renaissance Toledo is its main-floor restaurant, Brim House, which boasts the culinary skills of former Hollywood Casino chef Aaron Lawson. The menu is heavy on meat and seafood, but there are a few vegetarian options. There's a nice wine selection, too, and an adjacent bar that melds nicely into the neo-Bauhaus décor.
Under Chef Lawson's guidance, the food is the equal of other Toledo upscale eateries, be it Rockwell's or the newly opened Chop House. We sampled a number of dishes, from the 8-ounce Bistro steak ($24, and tender enough to be cut with a table knife), and half roasted chicken ($21, swimming in a broth of summer vegetables), to the American burger ($18), which arrived with a side of vinegar fries and enough micro greens to build a salad.
Savory is the best way to describe the eatery's seasonal menu, matched by a sparkling presentation. And the servers were quick to answer our every inquiry with enthusiastic smiles. It's open from 11 a.m. to 2 p.m. and 5 to 10 p.m.
The restaurant serves breakfast, lunch, and dinner, and the entrée prices range from $15 at breakfast and lunch to around $40 at dinner.
Which brings us to room service, which is available 24/7, but only with a limited menu from 10 p.m. to 7 a.m.
Time was when you'd ordered up a meal and it would be delivered on a serving cart, complete with cloth napkins, china, and metal utensils. Not here.
About a year ago, Marriott instituted its A La Carte program, which finds meals delivered to your room in a shiny black bag filled with plastic and cardboard containers of various sizes. The tip is factored into the order, so the delivery entails someone merely handing you a bag at the door's threshold.
Paper napkins and plastic utensils are a bit church supper, and the delivery packaging doesn't always fit the food. A chunky chicken salad sandwich was nearly folded in half and never did fully recover
On the upside, the packaging material is all recyclable, and is clearly good for the environment in cutting down on dish washing.
By any measure, the Renaissance Toledo Downtown deserves its four-star rating. It's clean, professional, and inviting, with room rates that fluctuate between weekend and weekday.
Exactly what would it take to get five stars?
Based on information from Forbes magazine, which does rank billionaires, after all, five-star hotels go that extra step: fresh flowers in the room, high-quality mixing glasses, personally monogrammed robes and baby butlers. And the concierge — Marriott calls them Navigators — at five-star hotels are trained to handle almost any guest request, such as an order of zebra milk as was once requested at London's posh Lanesborough Hotel.
Toledo's Navigators won't likely face that challenge, but, given enough notice, they will make dinner reservations and arrange sports or entertainment tickets for you.
And the Renaissance Toledo Downtown has one further perk: It's pet friendly. There's a nonrefundable $150 cleaning fee per stay, but no size limit. There's no charge for service animals.
Contact Mike Pearson at mpearson@theblade.com or 419-724-6159.
Guidelines: Please keep your comments smart and civil. Don't attack other readers personally, and keep your language decent. Comments that violate these standards, or our privacy statement or visitor's agreement, are subject to being removed and commenters are subject to being banned. To post comments, you must be a registered user on toledoblade.com. To find out more, please visit the FAQ.