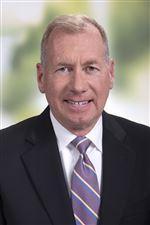 Jim Weidner was named chief operating officer of Mercy Health Toledo today.
MERCY HEALTH Enlarge
Jim Weidner has been named chief operating officer of Mercy Health Toledo, the health system announced Thursday.
Mr. Weidner, 58, will oversee operations, including patient safety and customer service, for hospitals in Toledo, Oregon, Tiffin, Willard, and Defiance, as well as outpatient centers in the region.
He was regional vice president for Quorum Health Corp. and led hospitals in Colorado and Illinois and was based in Nashville. Before that he was president and chief executive officer for Cullman Regional Medical Center in Alabama. Mr. Weidner joined Mercy Health on Nov. 27.
"We welcome Jim to Mercy Health and to Northwest Ohio. He is a dynamic, executive leader with more than 20 years of healthcare experience," Bob Baxter, president and CEO, Mercy Health Toledo, said in a statement. "Jim's understanding and embrace of the Mercy Health mission coupled with his extensive management expertise will help position Mercy Health for continued growth and success in meeting the healthcare needs of the communities we serve."
Contact Lauren Lindstrom at llindstrom@theblade.com, 419-724-6154, or on Twitter @lelindstrom.
Guidelines: Please keep your comments smart and civil. Don't attack other readers personally, and keep your language decent. Comments that violate these standards, or our privacy statement or visitor's agreement, are subject to being removed and commenters are subject to being banned. To post comments, you must be a registered user on toledoblade.com. To find out more, please visit the FAQ.