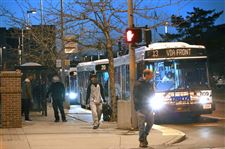 THE BLADE/KATIE RAUSCH
Enlarge | Buy This Image
Toledo Area Regional Transit Authority buses will begin leaving downtown Toledo on coordinated "lineup" schedules all day long in early January under a plan approved Thursday by the agency's board of trustees.
TARTA staff presented the proposal to public hearings in October, and public opinion was "overwhelmingly positive," James Gee, the authority's general manager, told the trustees before their unanimous vote.
Buses will leave the Jackson Street lineup half-hourly during the morning through early lunchtime and during the afternoon rush. During the early afternoon, when ridership typically tails off, the 12:30 p.m. and 2 p.m. departures will be skipped.
Several route changes also will take effect when timetables change Jan. 7. TARTA will reduce its total operating time over all routes by about 50 hours per day, which Mr. Gee said will save the agency about $400,000 per year.
Guidelines: Please keep your comments smart and civil. Don't attack other readers personally, and keep your language decent. Comments that violate these standards, or our privacy statement or visitor's agreement, are subject to being removed and commenters are subject to being banned. To post comments, you must be a registered user on toledoblade.com. To find out more, please visit the FAQ.