The Lucas County Board of Elections, presently occupying three locations for various needs, could consolidate into one building late this year.
Board members met Friday and expressed support for the combination of administration, Early Vote Center, and warehouse. A proposed site is the early voting site at 1301 Monroe St.
The board currently holds offices at One Government Center and a separate warehouse with voting equipment.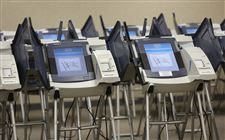 Voting machines at the Early Vote Center in October of 2017.
The Blade
Enlarge | Buy This Image
Chairman Dr. Bruce Saferin said the Lucas County Commissioners are reviewing the plan. It would likely take until the year's fourth quarter to implement.
"They would like this to be the location, but there's obviously a lot of hoops to jump through and a lot of things to do," Dr. Saferin said.
With the move in place, staff members can walk across a hall to check the warehouse or talk to other workers. The goal is to save money and man-hours, he said.
"It's a man-power issue, as well as a dollar-and-cents issue, because three locations has to be more expensive than one location," Dr. Saferin said.
Commissioners are focused on consolidation for the board and understand the need, board member Joshua Hughes said.
"It is on their agenda. They do plan to make sure it happens this year," he said.
County Commissioner Pete Gerken said this consolidation has been their intention for a while and part of a larger movement.
OhioMeansJobs Lucas County, which occupies the Early Vote Center as well, would join a shared campus with other social service agencies like the county department of Job and Family Services. It would better serve their shared clients, he said.
Several sites are still under consideration. The plan would finalize in the next month or so, he said.
"It works for all the agencies at once. We are in the process of executing that plan," Mr. Gerken said.
Contact Ryan Dunn at rdunn@theblade.com, 419-724-6095, or on Twitter @RDunnBlade.
Guidelines: Please keep your comments smart and civil. Don't attack other readers personally, and keep your language decent. Comments that violate these standards, or our privacy statement or visitor's agreement, are subject to being removed and commenters are subject to being banned. To post comments, you must be a registered user on toledoblade.com. To find out more, please visit the FAQ.