ADRIAN — A Rome Township dog breeder now charged with animal cruelty has been on local authorities' radar for years.
Public records obtained by The Blade from the Lenawee County Sheriff's Office reveal complaints involving the animals owned and sold by Sharon Kay Evans, 53, date back to 2002.
Capt. Jeff Ewald, a detective bureau supervisor who oversees animal control, said the department was "very aware" of Ms. Evans and her farm.
"We've been out there a number of times and had different issues," he said.
Ms. Evans, of the 8800 block of Shepherd Road south of Onsted, Mich., is charged with felony animal cruelty. She is slated to appear Thursday in Lenawee County District Court for a preliminary examination hearing.
At last count, authorities tallied 212 dogs and puppies, 32 horses, five cats, two peacocks, and a donkey removed in separate seizures Dec. 29 and Jan. 3 after they were found living in poor conditions on her property.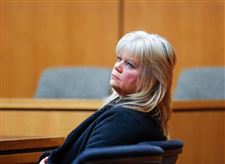 Sharon Kay Evans appears before Lenawee District Court Judge Jonathan Poer in Adrian, Michigan on Jan. 11. Evans is being charged with felony cruelty to animals after over 200 dogs, 32 horses, and other animals were seized from her Shepherd Road property on Jan. 3.
The Blade/Jetta Fraser
Enlarge | Buy This Image
Ms. Evans' attorney, Rodney Leon, has not returned calls seeking comment.
Captain Ewald said Ms. Evans has held a county kennel license for at least 10 years. Her 2017 license, issued in June, allowed her to have up to 50 dogs 6 months and older — younger dogs are not counted for kennel licenses. She also had 29 individual dog licenses for 2017, separate from the kennel license.
There is no limit on the number of individual dog licenses an owner can obtain, the captain said, as long as an owner can care for the dogs. He noted Lenawee County's animal ordinance was created in 1976 and a committee has recently been working to update it.
Rome Township does not have a limit on the number of animals a resident may own on properties of 10 or more acres, according to Supervisor Al Boggs.
The sheriff's office has fielded multiple complaints over the years from people who have purchased puppies from Ms. Evans. Some reported animals living in dirty conditions or other general concerns, while several said the puppies they bought were sick.
Captain Ewald said many of the reports could not be substantiated when officers visited the kennel and found she was legally compliant with the law and the conditions of her kennel license.
A January 2008 report of possible animal cruelty led to an inspection that found Ms. Evans had more than 85 adult dogs and more than 75 puppies. She had a kennel license for 40 dogs at the time.
Documents show an officer found that, while the dogs appeared to be well fed, none had fresh water, many were dirty, and the dogs' bedding was soiled. Ms. Evans told officers her well pump had broken and was being fixed.
Ms. Evans was instructed to reduce the number of canines to comply with her kennel license and clean up her property. A follow-up inspection found Ms. Evans had rectified the problems. She had 40 adult dogs and 61 puppies, and had licensed 21 other dogs as personal pets, so her kennel license was renewed.
"She met all the criteria," Captain Ewald said.
An inspection following a June 2017 complaint asking authorities to check the dogs' welfare found one dead golden retriever puppy that Ms. Evans was instructed to bury. All other dogs on the property appeared healthy and clean, and their living conditions were adequate.
The following month, someone reported Ms. Evans had not properly disposed of animal carcasses on the property. An officer noted Ms. Evans was very upset and would not allow access to the lower portion of a barn where the complainant indicated the dead animals were.
The officer did see two dead baby ducks inside a cage with Akitas, which Ms. Evans was told to bury, and noted the Akitas appeared to be in better conditions than during the inspection the month prior.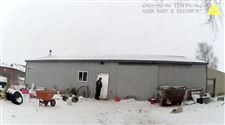 Video screen grab of the property where authorities say Sharon Kay Evans held more than 200 dogs, 32 horses, and other animals.
Captain Ewald said officers can legally inspect the building registered as the kennel at any time, but need permission, a warrant, or evidence in plain sight to inspect other areas of the property. Ms. Evans refused to allow officers to see the other buildings, saying the animals in them were personal pets, and authorities didn't have leverage to press the matter.
"That's how the game has kind of been played with her," he said.
The most recent complaint, which prompted the ongoing criminal case, came Dec. 19 from someone who purchased a puppy from Ms. Evans. The buyer was concerned the conditions at the property were inhumane and said Ms. Evans had misrepresented facts about the dogs and falsified documents.
Bitterly cold winter weather prompted the department to seize 55 dogs Dec. 29. Captain Ewald said a farm hand showed officers the other buildings that day, and the department returned Jan. 3 with a warrant to seize the remaining animals.
"The weather conditions exacerbated everything," the captain said, noting a primary concern was the lack of fresh, unfrozen water for all the animals.
The Lenawee County Health Department also inspected the property Jan. 3. A report obtained by The Blade details "large amounts of rubbish and garbage throughout the home covering the floors and counters, sinks, tubs, tables, shelving units, and furniture, etc."
Numerous dogs, cats, and a bird were seen in the home — some in crates or storage totes with others running loose inside. Animal waste was found throughout the house, according to the report and the basement was flooded with floating garbage and therefore unable to be inspected.
A dead chicken and other animal parts — a deer leg, feathers, and bones — were found outside.
Ms. Evans was ordered via certified letter to rectify the various health-code violations, and a reinspection is slated for Jan. 31.
"She's been given the opportunity to make corrections and clean the property," said Cindy Merritt, a health department sanitarian.
Ms. Merritt said the department did not inspect the various outbuildings because they were not part of the complaint it received.
Contact Alexandra Mester amester@theblade.com, 419-724-6066, or on Twitter @AlexMesterBlade.
Guidelines: Please keep your comments smart and civil. Don't attack other readers personally, and keep your language decent. Comments that violate these standards, or our privacy statement or visitor's agreement, are subject to being removed and commenters are subject to being banned. To post comments, you must be a registered user on toledoblade.com. To find out more, please visit the FAQ.