Having gone to bed during a rainstorm the night before, many in the Toledo area woke up 40 years ago to a howling blizzard — one that would paralyze much of the region for more than a week.
Rolland Stieben, however, had been awake all night, working the third shift at the Dana Corp. plant on Bennett Road. And after he fought his way across West Toledo to his Tiverton Street home, there was the matter of The Blade delivery routes his five children needed to complete — after first retrieving the newspapers from a drop-off point several miles away.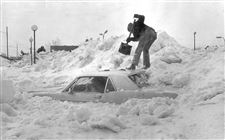 Jerry Ludwig of Toledo tries to dig his car out of a snow bank at Glynbyrne Shopping Center parking lot after the blizzard of 1978. The vehicle was buried by the snow plows.
BLADE FILE PHOTO Enlarge
But deliver their 66 newspapers to readers along six neighborhood streets they did, despite the snow that accumulated to just over a foot and whipping wind that blew much of it many feet higher against houses and on top of cars.
"These kids were all just raring to go," Mr. Stieben, 86, recounted Thursday. "It was an adventure for them. It tickled me to see those kids hopping through the streets like bunnies."
As is the case for so many others in the region, the Blizzard of 1978 is the storm against which Mr. Stieben measures all other storms.
The storm was meteorologically rare. It erupted over Ohio the night of Jan. 25 when an arctic system eastbound from the Dakotas merged with a southern storm laden with tropical moisture. As the cold front moved east, the heavy rain and warm air in front of it was quickly replaced by wind-driven heavy snow.
VIDEO: Rolland Stieben discusses the blizzard of 1978
Barometric pressure at Toledo plunged to 28.48 inches of mercury, one of several record lows in the Great Lakes region.
With such deep low pressure came wicked wind that blew snow onto roads faster than plows could clear it. In open country, snowdrifts piled as high as 16 feet — burying mobile homes and reaching two-story houses' roofs.
Rolland Stieben, 86, holds a keepsake edition of The Blade celebrating the 30th anniversary of the Blizzard of 1978 at his home in Toledo. Mr. Stieben said the most memorable part of dealing with the blizzard was helping his five children deliver The Blade the afternoon the weather struck. In all, the family made sure 66 people received their newspapers.
The Blade/Katie Rausch
Enlarge | Buy This Image
The wind and brutal cold behind the storm made travel all but impossible and packed the snow into a formidable barrier that, combined with abandoned cars, made clearing it a herculean task. Many of the scores who died in the storm were stranded motorists who made ill-advised attempts to seek other shelter when their vehicles became stuck.
The Ohio Turnpike was closed for about three days over the storm's entire length — the only such shutdown in its history — and reopening occurred then only because the Ohio National Guard sent in heavy equipment to clear out drifts.
The National Guard activated 5,000 soldiers and airmen over the next 11 days to provide assistance in all 88 Ohio counties. Its 800 vehicles and 45 helicopters were used to evacuate stranded motorists, deliver supplies, and remove snow, while armories were opened as shelters for travelers and people who had no heat at home.
Storm damage in Ohio was estimated at $210 million.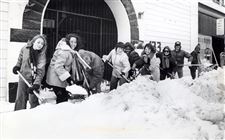 City of Toledo Recreation Division full and part-time employees create a snow cleaning crew to clear the sidewalks on downtown streets in January of 1978.
BLADE FILE PHOTO Enlarge
The blizzard became a thing of legend at The Blade as well, with some editorial and production workers remaining at the newspaper's office for days — either sleeping in the downtown Toledo building or finding lodging nearby — to maintain daily publication.
Mr. Stieben said Thursday he wished he had spoken up sooner to give due credit as well to the carriers — like his children Bruce, then 14; Chris and Tammy, both 11; Darrel, 10, and Glenda, whose 12th birthday fell that day — who did their part to get newspapers to readers once they had been printed.
"The customers got their papers that day," he said proudly.
Mr. Stieben said the first word he received about the worsening weather was buzz across the factory floor about what was going on outside the windowless building in which he worked.
He stepped into ankle-deep slush after his shift ended, then slowly drove west toward home on Sylvania Avenue, a trip with a white-knuckle factor intensified by being low on gas.
"I was a little bit anxious about getting home," Mr. Stieben recalled, especially after the first gas station he stopped at was unoccupied.
The Blizzard of 1978 would become the centerpiece of a winter that, with 73.1 total inches, was Toledo's snowiest ever until just four years ago, when the winter of 2013-14 delivered a cumulative 86.3 inches of snow at Toledo Express Airport.
But while the 2013-14 winter featured several memorable snowfalls and record-setting cold on several days, it barely held a candle to the 1978 blizzard.
"It was just flabbergasting," Mr. Stieben said. "We never had anything like it [before], and we haven't had it since."
There certainly will be nothing of the sort on the storm's 40th anniversary. Although long stretches of the current winter have been cold enough to form thick ice on Lake Erie, forecasters expect the latest in a recent series of thaws to hit northwest Ohio and southeast Michigan on Friday, with temperatures soaring into the 50s ahead of rain on Saturday.
Jay Berschback, chief meteorologist for WTVG-TV Channel 13, said the next big chance for measurable, even shovelable, snow in the Toledo area appears to be late next week.
A storm expected Monday could bring up to an inch, Mr. Berschback said Thursday, while "a more substantial weather maker" forecast to travel up the Ohio Valley on Thursday and Friday could be bigger, depending on its precise track and timing.
Contact David Patch at: dpatch@theblade.com or 419-724-6094.
Guidelines: Please keep your comments smart and civil. Don't attack other readers personally, and keep your language decent. Comments that violate these standards, or our privacy statement or visitor's agreement, are subject to being removed and commenters are subject to being banned. To post comments, you must be a registered user on toledoblade.com. To find out more, please visit the FAQ.