A Christian group with anti-LGBTQ views has purchased the former Bretz nightclub on Adams Street in the UpTown District and plans to renovate the building to use as their new place of worship.
In a news release provided by their attorney, The Greater Toledo House of Prayer denied statements made earlier this week by a LGBTQ organization that claimed the former gay dance club was bought by a hate group.
"Public statements have been made suggesting that GTHOP was itself involved in the closing of the nightclub, however this is not accurate," the group's board of directors said in a statement. "GTHOP is a prayer and worship ministry, where individuals and worship teams commit to maintaining a climate of worship and prayer in the Toledo community."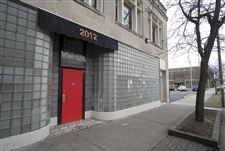 Bretz nightclub, 2012 Adams Street, pictured on December 21, 2017.
THE BLADE/DAVE ZAPOTOSKY
Enlarge | Buy This Image
Bretz nightclub, one of Ohio's oldest gay bars and a popular gathering place for young gay, lesbian, bisexual, queer, and transgender people, closed abruptly in late December. The Greater Toledo House of Prayer statements of belief on its website show it views LGBTQ people as immoral, stating that it considers homosexuality, bisexuality, and having a gender identity different than the birth sex chromosomal level are against the group's values.
Jo Jakeway, chair of the Promise House Project — a nonprofit for runaway and homeless lesbian, gay, bisexual, and transgender youths — said that the Bretz building was bought by an organization with ties to the controversial International House of Prayer.
Mrs. Jakeway said Friday she doesn't know for sure if the local Christian group is affiliated to the International House of Prayer. However, she said she has concerns about the motivation behind buying the former gay nightclub.
"I am still not completely satisfied," she said. "If they want to prove us wrong, I challenge them to embrace us and not tell us we are wrong for being part of the LGBTQ community."
She was critical in the news release of the Kansas City-based International House of Prayer and its founder, evangelical Mike Bickle, for backing hate legislation, including a law in Uganda that called for sentencing LGBTQ people to death.
Lucas County auditor records show the building at 2012 Adams was purchased Jan. 3 for $148,000, with Midland Agency of Northwest Ohio Inc., which is listed as trustee for the new owner.
The directors of the Greater Toledo House of Prayer said they had outgrown the space in a rented office building in downtown Toledo where the church had been holding services for several years, and needed a larger facility for worship.
"In October, 2017, the ministry became aware that the Adams Street building was available for sale, then toured the building, and determined the space would work well for the group. GTHOP was informed by the owner of Bretz, that over the past three years, efforts were made to sell the business and keep the nightclub open. However, negotiations with interested parties never materialized into a sale of the business, leading the bar owner to make the decision to close the establishment. Knowing this, the property owner eventually decided to sell the real estate," the directors said in the release provided by Richard Kerger.
According to the Greater Toledo House of Prayer's website, the group formed in early 2004 with a small group of worshipers meeting twice a week. They visited the International house of Prayer in Kansas City in March, 2005, "to get on whether or not they should build" a house of prayer in Toledo. "There they received prayer from Mike Bickle, which brought forth the confirmation they sought," the website said.
Another Christian group, Agora Toledo, which proposed creating a memorial garden to the unborn on the grounds of a former abortion clinic in the UpTown neighborhood, has ties to the Greater Toledo House of Prayer.
Denise Emerine, who is director of Greater Toledo House of Prayer, and member Bob Borcherdt are directors for Agora Toledo, according to its 2014 Internal Revenue Service form declaring its exempt status.
The abortion facility, Center for Choice, closed in 2013 because it lacked a mandatory emergency transfer agreement with a hospital. County property records show the building, on 22nd Street, was sold to Midland Agency of Northwest Ohio Inc.
Ed Sitter, executive director of Foundation for Life and Greater Toledo Right to Life, told The Blade in 2014 the closed abortion facility was to be razed and replaced with a memorial garden and green space. He said then that Agora purchased the property, but he declined to offer any details on the group.
The group's plans to build a park did not materialize, and the building remains on the property.
Contact Mark Reiter at: markreiter@theblade.com or 419-724-6199
Guidelines: Please keep your comments smart and civil. Don't attack other readers personally, and keep your language decent. Comments that violate these standards, or our privacy statement or visitor's agreement, are subject to being removed and commenters are subject to being banned. To post comments, you must be a registered user on toledoblade.com. To find out more, please visit the FAQ.