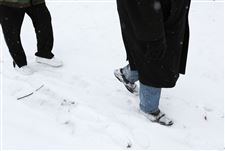 The Blade/Dave Zapotosky
Enlarge | Buy This Image
Snow came into the Toledo area overnight, dropping anywhere from 1-to-2 inches as of 7 a.m. Sunday.
According to the National Weather Service, Toledo Express Airport reported snowfall of 1 inch at 7 a.m. while Perrysburg reported 1 1/2 inches. Total snow accumulation Sunday is expected to reach as much as 3 inches.
PHOTO GALLERY: Snow hits Toledo Sunday
Snow remains in the forecast for the beginning of the week, with Monday night bringing a possible new accumulation of 1-to-3 inches.
Cold temperatures will also greet the area for the beginning of the work week. Monday's high of 29 degrees will drop to -2 with windchill.
Guidelines: Please keep your comments smart and civil. Don't attack other readers personally, and keep your language decent. Comments that violate these standards, or our privacy statement or visitor's agreement, are subject to being removed and commenters are subject to being banned. To post comments, you must be a registered user on toledoblade.com. To find out more, please visit the FAQ.