The Toledo City Plan Commission approved Thursday the replatting of — and building demolitions on — East Toledo land proposed for the Gateway Lofts project at the Marina District's south end.
The commission also referred to Toledo City Council a 21-unit condominium complex proposed for the Warehouse District.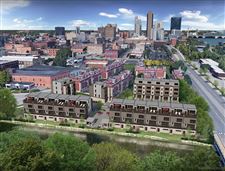 Rendering of The Saint Claire.
Three related applications for the Marina District work from Continental Development all got the plan commission's unanimous approval following brief discussion.
"This is the first step in putting everything together," said Matt Lewandowski of Lewandowski Engineers, who presented the application to the commission.
The new plat redivides about 23.3 acres into eight building lots plus two pieces set aside for public use. The area is bounded roughly by Front and Main streets, Riverside Drive, the Maumee River, and an extension of Morrison Drive.
The site includes several existing buildings, including a gas station at the corner of Front and Main and a neighboring car wash, that are to be torn down for redevelopment of retail and office uses along those two streets. The existing Lorenzen building is to be retained but partially razed at one end where it would otherwise block a proposed pedestrian/bicycle path running behind neighboring new buildings along Front.
The new retail and office development would adjoin a 360-unit apartment development Continental proposes for the balance of the property. The city is to build an extension of Morrison, which now ends at Front, and install utilities.
The Saint Claire planned-unit development at 151 S. Saint Clair St. also received a unanimous endorsement from the plan commission, but it is still subject to council action and is tentatively scheduled to go before council's planning and zoning committee April 11.
Developer Jim McGowan told the plan commission he already has received some inquiries about the potential to combine adjoining dwellings in The Saint Claire, but as proposed each will have about 2,000 square feet of floor space on three levels above ground-floor garages.
The commission agreed to waive several requirements of Toledo's planned-unit development regulations on the grounds that those regulations were drafted with suburban, rather than urban, settings in mind. Those included allowing 58 percent of the 1½-acre site to be built upon or paved, instead of the normal 40 percent maximum.
"Some common sense needs to be utilized here," said Thomas Gibbons, the commission's director, who also agreed that the city may want to consider drafting separate planned-unit development rules for its urban core.
Richard Rideout, a member of the Toledo Warehouse District Association's board of directors and architectural review committee, said The Saint Claire would be "a huge project for the Warehouse District and the overall development of downtown Toledo."
And John Blaufuss, representing the homeowners' association at the neighboring River West condominiums, said it would address "a relative dearth" of middle-class and high-end dwellings in the downtown area.
"This project is about bringing residents with resources" to Toledo's core, he said.
Mr. McGowan said last week he expected to price The Saint Claire's homes between the high $300,000 range and nearly $700,000. Thirteen of the 21 would overlook Swan Creek, although the developer told the plan commission they would be designed so as to not be subject to federal rules requiring flood insurance.
Contact David Patch at: dpatch@theblade.com or 419-724-6094.
Guidelines: Please keep your comments smart and civil. Don't attack other readers personally, and keep your language decent. Comments that violate these standards, or our privacy statement or visitor's agreement, are subject to being removed and commenters are subject to being banned. To post comments, you must be a registered user on toledoblade.com. To find out more, please visit the FAQ.