Twelve ancient mosaics from the Republic of Turkey acquired by Bowling Green State University more than 50 years ago will return later this year to their rightful home, after researchers determined they were looted during illegal excavations.
Researchers determined the tile fragments, which were originally believed to have been part of approved archaeological digs in Antioch overseen by Princeton University, were actually cut roughly from a mosaic floor in the ancient city of Zeugma in the 1960s.
Monday afternoon, Raymond Craig, dean of the BGSU College of Arts and Sciences, and Sean Fitzgerald, general counsel for the university, met with Turkish Culture and Tourism Office director Tulin Sermin Ozduran at the Turkish Consulate in Chicago, where they signed an agreement to return the pieces.
"Legally, there's one question, and then there's what we believe is the right decision," BGSU President Rodney Rogers said. "Unbeknownst to us, these items appear to have been removed in an improper way. Therefore, we believe it is our duty as a university to allow these pieces, which have historical significance to Turkey and to the citizens of Turkey, but also to society in general, [to be returned] to their home."
Once the tiles are returned sometime later this year — a date has yet to be determined — they will be exhibited at the Zeugma Mosaic Museum in the city of Gaziantep, where some of the mosaic fragments recovered from Zeugma during authorized digs in the 1990s have already been placed.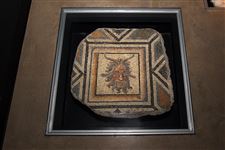 Bowling Green State University officials have signed an agreement to return several ancient mosaics to Turkey after researchers determined the art was illegally excavated decades ago.
BGSU Enlarge
BGSU purchased the pieces in 1965 for $35,000 from antiquities dealer Peter Marks at the Peter Marks Works of Art, a now-shuttered New York gallery. Paperwork on the sale is scant, but shows that the purchase was made at the suggestion of former art faculty member Hugh Broadley and approved by then-BGSU President William Jerome.
The pieces were eventually restored and installed under thick protective glass in the floor of the Wolfe Center for the Arts at the university, which opened in 2012.
Stephanie Langin-Hooper — currently assistant professor and Karl Kilinski II Endowed Chair in Hellenic Visual Culture at Southern Methodist University, Dallas — was asked to research the tiles and invite scholars to speak about them at a symposium when she was an assistant professor of ancient art history at BGSU.
She invited Rebecca Molholt, an expert in ancient Roman mosaics at Brown University. The pair determined after combing through photos of the Princeton dig that the mosaic fragments did not match those of the Antioch excavation, but rather, the artistic tiles in ancient Zeugma.
"That site had been extensively looted ... and comparing photographs of looted sites, we were able to pinpoint the exact location, the particular room in a mosaic house, where the fragments came from," Ms. Langin-Hooper said. "A lot of the mosaic was looted and BGSU does not have all of it. Some of the mosaic, we don't know where it is. It could be at another university, or lost or who knows, but there was enough there, the particular geometric patterning, the coloring, the size of the tesserae, the individual tiles, everything was a match."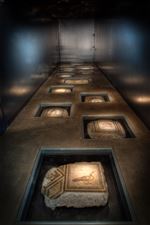 Bowling Green State University officials have signed an agreement to return several ancient mosaics to Turkey after researchers determined the art was illegally excavated decades ago.
BGSU Enlarge
The pieces of chiseled stone and glass depicting masks of ancient Greek figures and birds surrounded by geometric and floral patterns in yellows, whites, reds, greens, and browns, formed part of a frame of a mosaic panel known as "Gypsy Girl," a symbol for the city of Gaziantep. The professors discovered that 11 of the pieces, measuring about 12 by 12 inches, were part of the same floor. The 12th piece, 2 by 3 feet in size, depicts the mask of an ancient Greek female figure and was determined by Ms. Langin-Hooper and Ms. Molholt to have come from the same villa.
"Its edges are straight and even, indicating that they were cleaned up and possibly repaired or restored, sometime before the mosaic was purchased by BGSU," Ms. Langin-Hooper wrote in an article.
Many of those involved in both the acquisition process and the research years later have since died, including Mr. Marks, who made the original sale to the university (he died in 2010), and for which little documentation on his original purchase exists, and Ms. Molholt, who died in 2014. Mr. Broadley and Mr. Jerome are also deceased.
The university informed the Ministry of Culture and Tourism of Turkey after the the two professors made their potential discovery. The ministry investigated and confirmed the findings of Ms. Langin-Hooper and Ms. Molholt, according to the Turkish tourism office in New York City. Ms. Langin-Hooper's article on the find was published in the Journal of Roman Archaeology in 2013.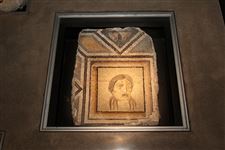 Bowling Green State University officials have signed an agreement to return several ancient mosaics to Turkey after researchers determined the art was illegally excavated decades ago.
BGSU Enlarge
"It took some time to make sure we made a good decision for the university and the initial investment that the taxpayers in essence made for these. So we wanted to make sure we got it right, and that we were thoughtful about it," BGSU spokesman Dave Kielmeyer said.
Currently, the tiles remain part of the Wolfe Center installation. Per Monday's agreement, the cost of packing and transferring the tiles back to Turkey will be paid by the country's directorate. Like puzzle pieces, they will be joined with other tile fragments removed from the Zeugma site in the 1990s during authorized digs, after a dam was built on a nearby river to flood the city, Ms. Langin-Hooper said
In return, Bowling Green will receive high-quality replicas of the mosaics and a plaque explaining their journey, Mr. Kielmeyer said. It will be determined at a later date where the replicas will be placed, he said.
The provenance of ancient art — authenticating a piece through a historic record of ownership and origin — and the repatriation of those pieces to their home countries, are hot button topics in the world of international art dealing, and continue today, Ms. Langin-Hooper said.
The Toledo Museum of Art, in the last decade, has repatriated several antiquities that the museum determined were illegally acquired at some point, including that of a German statue stolen from the Dresden museum during World War II, and a 1,000-year-old bronze statue stolen from a temple in India.
"These are the kind of big cases where it seems like it happened so long ago, all of the key players are long since passed away, what difference does it really make?," Ms. Langin-Hooper said of the Bowling Green case. "But it does make a difference because when looters and antiquities dealers who are unscrupulous see this kind of thing happening it makes them less inclined to continue the looting that is destroying archaeological sites as we speak."
Contact Roberta Gedert at rgedert@theblade.com, 419-724-6075, or on Twitter @RoGedert.
Guidelines: Please keep your comments smart and civil. Don't attack other readers personally, and keep your language decent. Comments that violate these standards, or our privacy statement or visitor's agreement, are subject to being removed and commenters are subject to being banned. To post comments, you must be a registered user on toledoblade.com. To find out more, please visit the FAQ.