The Ohio Supreme Court on Thursday denied a citizen group's request to place on the ballot a measure regarding a new Lucas County jail location.
In a 4-3 decision, the justices declined to order the proposed Toledo City Charter amendment go before voters in November. The public initiative attempted to ensure any new county jail remain downtown.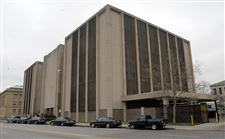 Lucas County Jail
BLADE Enlarge
The proposed charter amendment was not properly presented to the board of elections with an accompanying Toledo City Council vote, the majority ruled.
"Because the Toledo City Council failed to pass an ordinance submitting the proposed charter amendment in this case to the electors, the Lucas County Board of Elections was without authority to exercise even its ministerial duty to place the proposed amendment on the ballot," the justices wrote.
Citizen group members focused their case on the board of elections' refusal, justices said. The clerk of the city council submitted the petition directly to the board, they added.
"But this case turns not on the action of the board, but the inaction of city council, so the board's reasoning in reaching its decision is not at issue; without an ordinance instructing the board to place the proposed amendment on the ballot, the board lacked the authority to add the proposed charter amendment to the ballot," the court ruled.
Sean Nestor, a member of Keep the Jail Downtown Toledo, said Thursday's decision is extremely upsetting. The high court is confused and conflicted regarding citizen initiatives, Mr. Nestor said.
"What we see are politically motivated judges obscuring the public's right to practice self governance. This is a very scary thing we are going to continue to fight on every level," Mr. Nestor said.
An assistant prosecutor who handled the case could not be reached for comment Thursday.
Keep the Jail Downtown Toledo secured 7,764 validated signatures for its proposal. The board of elections unanimously voted not to place the amendment, however, on the grounds that it contains provisions beyond city authority to enact.
County officials are seeking to replace the county's aging downtown jail with a $180 million jail and behavioral health solution center.
The proposed jail would sit along the 5700 block of North Detroit Avenue. An accompanying property tax proposal, set to appear on the November ballot, is 1.37 mills at up to 37 years.
Contact Ryan Dunn at rdunn@theblade.com, 419-724-6095, or on Twitter @RDunnBlade.
Guidelines: Please keep your comments smart and civil. Don't attack other readers personally, and keep your language decent. Comments that violate these standards, or our privacy statement or visitor's agreement, are subject to being removed and commenters are subject to being banned. To post comments, you must be a registered user on toledoblade.com. To find out more, please visit the FAQ.