When people call Toledo a port city, it's usually in reference to the freighters hauling tons of iron ore, bulk grains, and other commodities to and from the shores of northwest Ohio.
Sixty years ago, though, it had an added connotation: Port of call. Toledo was a maiden stop for the Great Lakes-bound cruise ship the SS Aquarama.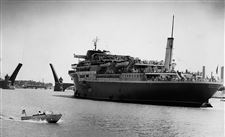 THE BLADE
Enlarge | Buy This Image
Pictured in this July 1, 1956, Blade archive photo by Dick Greene, as it prepares to clear the Cherry Street Bridge, the 520-foot long luxury liner made its first visit to Toledo on June 30 of that year. Owned by the Michigan-Ohio Navigation Co., it was the first cruise ship to visit the Glass City in at least 20 years.
Throngs gathered at the Middlegrounds dock at the foot of Monroe Street to get a look at the ship. Two thousand adventurous souls bought a ticket for its first five-hour tour of Lake Erie; more than 13,000 would sail on the nine deck ship during its inaugural three-day Toledo visit.
On board visitors found two theaters, steamer chair verandas, three dance decks, a children's playroom, observation lounges with panoramic views, game decks, and a carnival room.
They also found liquor for sale. Just days earlier the Ohio Department of Liquor Control reversed an earlier ruling and said the Aquarama could sell alcohol once it got three miles into Lake Erie. A previous ruling said it must be 18 miles into Lake Erie — basically international waters — for its federal maritime permit to be valid.
The $8 million ship would visit Toledo many times in the coming years.
By the late 1960s the vessel once described as "the largest and most modern passenger ship ever to sail the Great Lakes" had become obsolete. It found a final resting place in 1971 as a museum dockside in Muskegon, Mich.
Go to thebladevault.com/​memories to purchase historical photos taken by our award-winning staff of photographers, past and present, or to purchase combinations of stories and photos.
Guidelines: Please keep your comments smart and civil. Don't attack other readers personally, and keep your language decent. Comments that violate these standards, or our privacy statement or visitor's agreement, are subject to being removed and commenters are subject to being banned. To post comments, you must be a registered user on toledoblade.com. To find out more, please visit the FAQ.