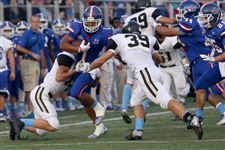 Bryant Koback, who starred at Springfield High School before breaking his leg midway through last season, will transfer from Kentucky.
Blade/Katie Rausch Enlarge
Former Springfield High School standout Bryant Koback has announced his plans to transfer from the University of Kentucky and return to a school that is closer to home.
Koback suffered a devastating leg injury during his senior season at Springfield and sat out his freshman season at Kentucky as a redshirt.
Through four games at Springfield in 2016, Koback was on his way to a monster season before the leg injury. He had 1,096 rushing yards and 21 touchdowns.
Despite the injury, Kentucky stuck with Koback and honored his commitment to the program.
Now because of "unforeseen circumstances with his family," Koback said on Twitter, he will leave the Wildcats program and attend a school closer to home.
January 3, 2018
Kentucky is slated to play Toledo to begin the 2019 season and has a home-and-home scheduled with Eastern Michigan in '19 and 2020, but UK head coach Mark Stoops said in a statement provided to The Blade that he would not block a transfer to either of the schools.
"Since I've been at Kentucky, our policy has been that we will not approve a transfer to a Southeastern Conference school or future non-conference opponent," Stoops said. "Until this afternoon, Bryant had never talked to me personally to ask me to change that policy. Following a discussion this afternoon, I've decided to allow Bryant to transfer to Toledo or Eastern Michigan if he so chooses. We wish Bryant and his family the best."
Guidelines: Please keep your comments smart and civil. Don't attack other readers personally, and keep your language decent. Comments that violate these standards, or our privacy statement or visitor's agreement, are subject to being removed and commenters are subject to being banned. To post comments, you must be a registered user on toledoblade.com. To find out more, please visit the FAQ.