Bowling Green plans to stick with the offensive formula that saw bouts of success Saturday against Toledo.
Falcons coach Mike Jinks confirmed after the game he now is an active participant in calling plays for the offense, which averaged 7.6 yards per play in a 52-36 loss at the Glass Bowl.
Bowling Green employs co-offensive coordinators in Kevin Kilmer and Andy Pardon, and Jinks said the playcalling is a group endeavor.
"It was a collective effort, but I'm definitely involved," Jinks said.
WATCH: Andrew Clair said offense 'stepped-up' against Toledo
Bowling Green (1-5) played its most complete offensive game of the season against Toledo.
The Falcons gained 481 yards of total offense against the Rockets, and despite a 17-0 deficit to start the game, they went into the fourth quarter down 31-28.
Bowling Green running back Andrew Clair accounted for 192 yards of total offense and three touchdowns, eight Falcons caught a pass, and quarterback Jarret Doege threw for 289 yards and three touchdowns.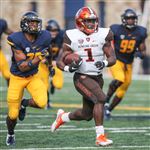 Bowling Green running back Andrew Clair scores a touchdown against Toledo.
BLADE/JEREMY WADSWORTH Enlarge
For parts of the day, the offense looked the way the Falcons hoped it would all year.
"I really feel like all season, how we were attacking [Toledo] early, I feel like we could have done that a lot in these games," Clair said. "It was just tonight, everybody wanted to step up and play, everybody wanted to come play, and everybody came to play."
Running the ball had been a major struggle for Bowling Green, which averaged fewer than 86 rushing yards per game and ranked 126th in the Football Bowl Subdivision.
In this game, BG finally was able to open running lanes for Clair, who rushed for 118 yards and two touchdowns. BG ran for 192 yards as a team.
"It was really nice to have some consistency out of that running game, and Andrew Clair is starting to look like Andrew Clair," Jinks said.
Unsurprisingly, the ability to run gave Bowling Green more flexibility on offense.
Once BG established the run, Jinks said he planned to stick with it until Toledo started to use single coverage on the Bowling Green receivers.
"We committed to [running], and early on we were able to get some movement," Jinks said. "From that point, I pretty much took my script away and was going to run the ball until they singled those guys up and gave us an opportunity to make some plays."
Despite two chances to tie or take the lead against Toledo, he Falcons' offense was not able to finish the comeback.
But BG thinks it was a start to becoming a more well-rounded offense in the second half of the season.
"The most we can take is we were able to run the ball [well]. We knew we should have been able to run the ball [well] in a lot of games," Clair said. "We know there weren't many mental errors this game, and that takes a lot. That was one of the steps we had to take."
Bowling Green's 2018 football schedule
Contact Nicholas Piotrowicz at: npiotrowicz@theblade.com, 419-724-6110 or on Twitter @NickPiotrowicz
Guidelines: Please keep your comments smart and civil. Don't attack other readers personally, and keep your language decent. Comments that violate these standards, or our privacy statement or visitor's agreement, are subject to being removed and commenters are subject to being banned. To post comments, you must be a registered user on toledoblade.com. To find out more, please visit the FAQ.