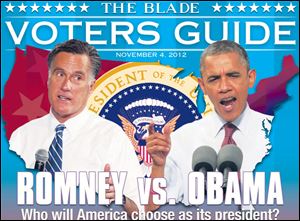 Polls will be open in Ohio from 6:30 a.m. until 7:30 p.m. Tuesday. While Michigan residents will vote from 7 a.m. until 8 p.m.
All voters must bring identification to the polls in order to verify their identity. The following is considered acceptable:
Current photo identification card issued by the state or federal government
Military ID
Current utility bill
Current bank statement
Current government check
Current paycheck
Any other government document, other than a registration card, bearing the voter's name and current address
Last four digits of Social Security number
MORE: Find your Nov. 6, 2012 ballot information
INSIDE THE VOTERS GUIDE:
Obama, Romney fight to the end in Buckeye State battleground
Brown, Mandel bitter fight for Senate seat.
Congressmen challenged in newly drawn districts.
Three Ohio Supreme Court seats on ballot.
Redistricting among Ohio ballot proposals.
Busy ballot awaits Michigan voters.
Federal and state seats on ballot in southeast Michigan.
Incumbents, newcomers vie for Ohio Statehouse seats.
Five seek two Lucas County commissioner seats.
Numerous levy requests await Toledo and Lucas County voters.
Lucas County treasurer and recorder posts contested.
Lucas County to elect judge and clerk.
Three communities weigh transportation issues.
Oregon council terms among local ballot issues.
Perrysburg, Anthony Wayne, and Ottawa Hills ask for levies.
Cities, agencies, and schools seek higher taxes.
Write-in candidates contend in two southeast Michigan township races.
Lenawee County to select commissioners and register of deeds.